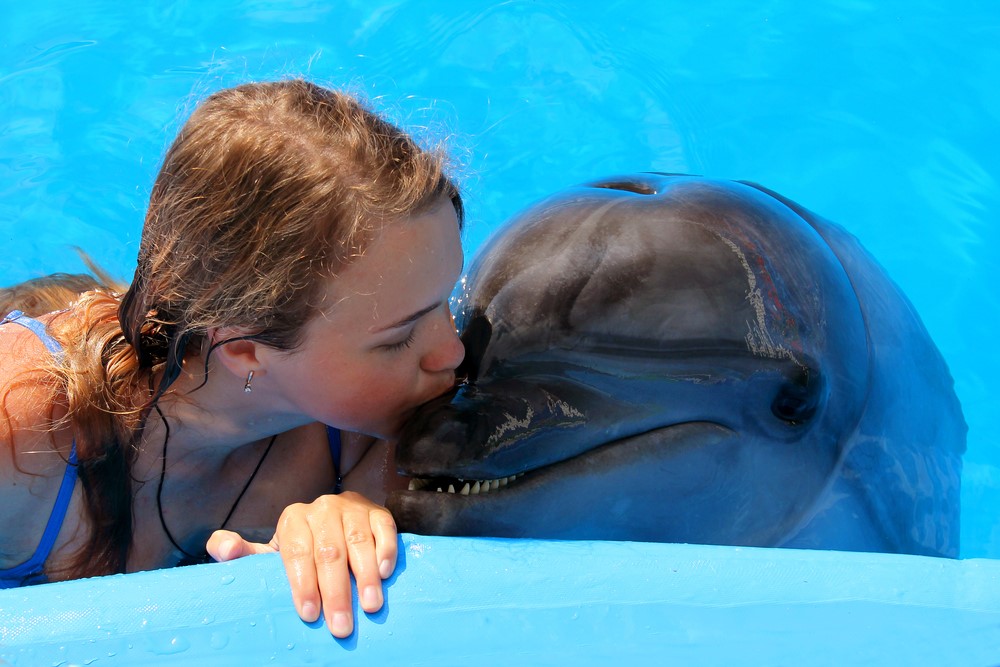 06 Apr

Dreaming of Dolphins

Imagine wading in a saltwater lagoon as a dorsal fin pokes up through the water and gracefully approaches you from the far side of the water. You reach out and feel the smooth body of a dolphin swimming by, playfully squeaking as you smile ear to ear. As you take hold of the fin, you are swept away a short distance as the dolphin takes you through the waves. Just as the dolphin begins to double back, you hear an alarm clock beeping in the distance. You wake up to the tropical sun shining in your window and roll over, but the smile does not fade because as you reach for your itinerary and realize that it is the day for your dolphin adventures on Paradise Island.
Choosing Your Adventure
In Paradise Island, two different places host these memorable dolphin encounters. Spend the day dancing in the waves with rehabilitated dolphins at Atlantis Dolphin Cay. While these dolphins cannot be released back into the wild due to injuries, they still thrive and live at play in the Dolphin Cay facilities.
In a natural ocean lagoon at Blue Lagoon Island, there are even more opportunities to learn about these incredible creatures while enjoying their playful company. With different programs like "Trainer For A Day" and "Royal Dolphin Swim," this company provides several experiences to choose from that allow you to grow your knowledge on these mesmerizing ocean dwellers and swim alongside them while working as a team.
An Adventure You'll Never Forget
When you stay with us in our Paradise Island resort or one of our beautiful villas, you will be able to remain close to these activities as well as many other island adventures. Whether it is swimming with dolphins, basking in the sun on the beach, or taking a fun island shopping trip, you will be able to find it all within close range of your accommodations. You can book your next Paradise Island adventure with us here at Paradise Island Beach Club by giving us a call or taking a look at our website.