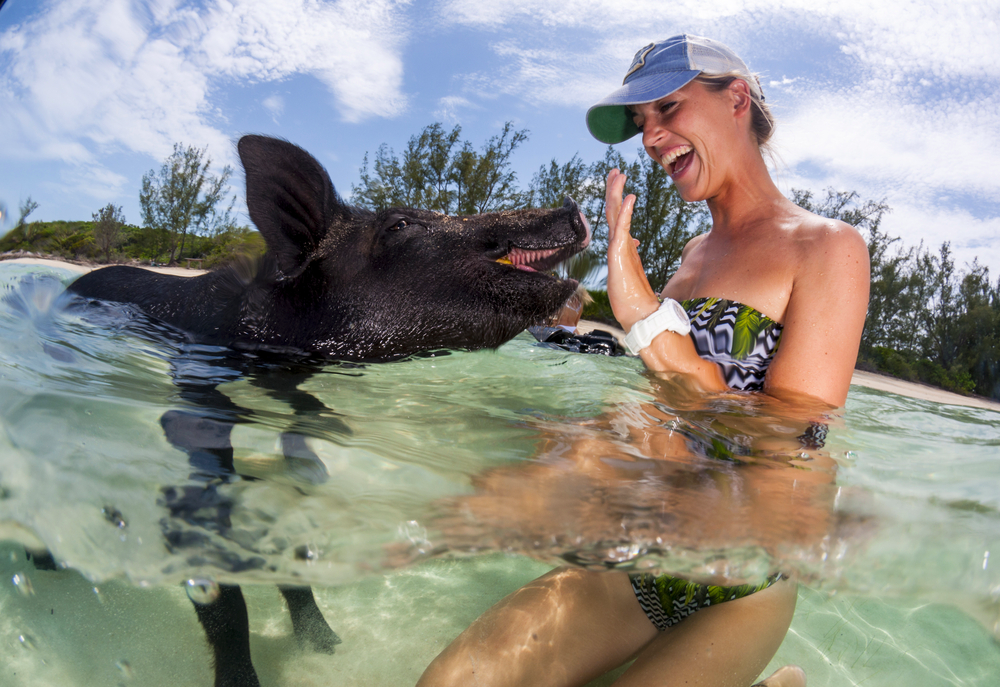 06 Mar

Swim with Our Corkscrew-Tailed Friends at Pig Beach

Sunglasses? Check. Swim shoes? Check. Swimsuit? Check. Towel? Check. Pig buddy? No worries. Paradise Island Beach Club has you covered. One of the most interesting attractions near Nassau Island is Pig Beach: a beautiful, white sand beach with picturesque palm trees, crystal clear water, and a smattering of friendly, fuzzy piggies who love swimming as much as you do. We know what you're thinking: "How the heck did those pigs get there in the first place, and how do I book my own Pig Beach Excursion from Nassau?"

Well, no one really knows how the pigs got there, but there has been plenty of speculation. Pig Beach resides on Big Major Cay—a small uninhabited island adjacent to Nassau Island. It's highly probable that Europeans had brought pigs with them to the Bahamas for food, and then a few escaped. Or, some believe a few lucky porkers survived a shipwreck and made a decent living for themselves. Kudos to those pigs for evading their bacon-destined doom and living out their best Paradise Island Beach Club life. If you're hungry for more information, check out Pigs of Paradise: The Story of the World-Famous Swimming Pigs by T.R. Todd. 
Your Pig Beach Excursion from Nassau at a Glance
Luckily, several options will get you to these cute porkers. There are several Pig Beach Bahamas tour options available. You can boat or fly your way to the Big Major Cay. Some options include:
Your Pig Beach excursion from Nassau is just around the corner. You only need to pick the option that works best for you!
Fuzzy, Pig Friends Await Your Visit
After a day of petting Caribbean pigs and exploring marvelous marine life, it's lovely to come back to your luxurious room at Paradise Island Beach Club. Enjoy our tropical villa options, where you can sit back, relax, and reminisce on the piggy friends you made that day. Pig Beach and other alluring Bahamas attractions are available to you when you book a stay Paradise Island Beach Club. For further questions about a Bahamas family vacation or to reserve a villa, call us at 1-800-310-5148 or send us an email. Our reservation specialists are happy to help!