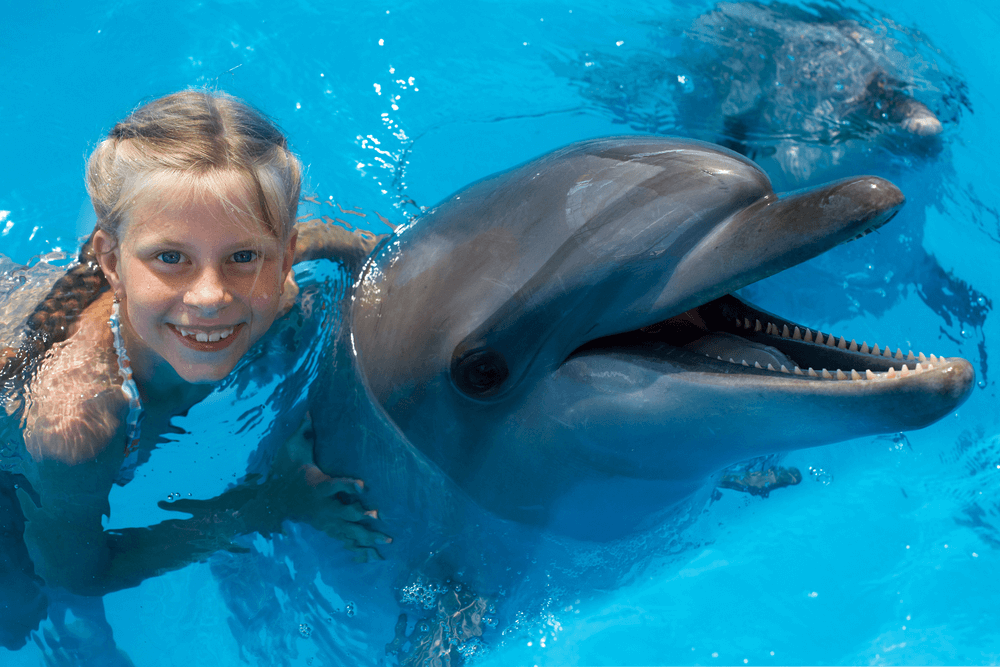 14 Mar

Swim with the Dolphins in the Bahamas

Did you ever dream of making marine acquaintances? During your stay at Paradise Island Beach Club, you can make your dreams a reality. Live out your mermaid fantasies of swimming with dolphins in the Bahamas near your Cabbage Beach villa. You're sure to cultivate unforgettable memories with loved ones learning everything you ever wanted to know about bottlenose dolphins and swimming with our flippered friends.
Head to Blue Lagoon to Swim with Dolphins in the Bahamas
Luckily for you, there are a few options to choose from when it comes to swimming with dolphins in the Bahamas. Make your way to Blue Lagoon Island, a seven-minute drive and a boat ride away from our Paradise Island resort. From there, you'll have three different dolphin packages you can pick to enhance your Bahamas family vacation. 
Those looking to dip their toes in the water should start with the Dolphin Encounter. Guests receive a lecture on these magnificent marine mammals followed by some playtime with the dolphins. Be sure to bring a camera so that you can snap pictures of friends and family interacting with our finned friends. They also have a professional photographer on-site to capture the moment for you. Some ways you'll be able to engage with the dolphins include hugging them and rubbing their bellies.
Upgrade your outing with the Swim with Dolphins in the Bahamas package. This is perfect for groups of ten or fewer, where you'll have thirty minutes to interact with the dolphins in the water. Do the Famous Foot Push and expand your knowledge on our bottlenose friends. Plus, an experienced photographer and videographer will be there to help you commemorate this unforgettable moment.
The Royal Dolphins Swim package provides guests the opportunity to interact with dolphins in two different settings and participate in a handful of tricks, like Star Turns, Dorsal Tow, Cradling, and more! As with the other packages, this one also includes a thorough lecture on everything you need to know about these beautiful mammals. You're guaranteed an intimate experience with two trained dolphins for a tour you'll never forget.
The Best Bahamas Attractions at Paradise Island
Treat your family to a sunny Bahamas getaway at Paradise Island Beach Club. Our assortment of private villas provides the utmost privacy during your stay. Spend a relaxing vacation on your private slice of paradise on Cabbage Beach and embark upon all manner of island activities like swimming with dolphins in the Bahamas. For more information on our availability, please give us a call at 1-800-310-5148.