07 Feb

The Ultimate Guide to Tasting Rum in the Bahamas

Chances are when you think of the Bahamas, certain things come to mind, like crystal waters, tropical conditions, and sandy beaches. However, these islands are also home to an incredible food scene. During your stay at Paradise Island Beach Club, expand your palate by trying Bahamian cuisine or sampling world-class Bahamas rum. On your next visit to our beachfront resort, discover all the ways to try this locally-made spirit.
How to Sample Rum in Nassau
In addition to ordering a rum-based drink, there are several ways to experience the flavor of Bahama-made rum. Plan a day into your itinerary to discover the incredible spots utilizing this spirit.
Rum Distilleries
Perhaps one of the most popular ways to sample Bahamas rum is at a Nassau rum distillery. There are two distilleries in Nassau known for their takes on this liquor.
Reserve a tour with Luna Rum Distillery to get an inside look at this local company that got its start making rum cakes. It switched to producing its own rum in February 2020 and hasn't looked back. 
John Watling's Distillery has been bottling up rum since 2003. Found in a historic downtown Nassau estate, the distillery utilizes a five-step process, which ensures the highest quality small-batch rum. Get an inside look at this process on a behind-the-scenes tour.
Rum Cakes
If you're someone with more of a sweet tooth, try a rum cake. One of the best spots to get this treat is The Bahamas Rum Cake Factory, which got its start in 2000. Dig into an original rum cake, or try one of the unique flavor combinations like banana or caramel. The factory is open seven days a week, minus holidays. You can even enjoy this sweet treat at home by having a cake shipped to you.
Soak in the Culture on a Bahamas Escape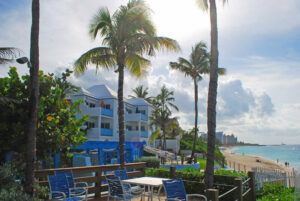 From trying rum to visiting a museum or learning what makes Nassau unique, there are plenty of ways to experience and learn about the culture and history of the Bahamas. During your next stay at Paradise Island Beach Club, be sure to add some of these activities to your itinerary to gain a better appreciation for your vacation destination. 
Found on the shores of Cabbage Beach, our Paradise Island resort offers guests a tranquil oasis to call home. While we're close to top attractions, we're far enough removed from the crowds. All our villas have the comforts of home, including a dining area, two bedrooms, and a fully-equipped kitchen. To learn more about reserving your stay with us, call 1-800-310-5148.